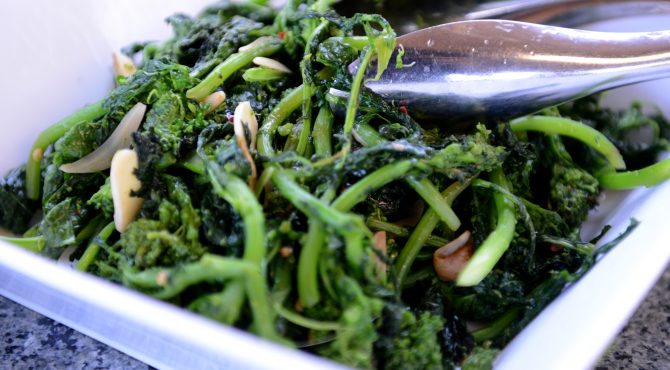 Broccoli rabe, the leafy bitter almond-flavored vegetable consumed by Italians for centuries. It is great just braised with olive oil and garlic and is featured in the Homegrown Heroes episode of Lidia Celebrates America.
Prep time: 10 Minutes
Cook time: 15 Minutes
Total time: 25 Minutes
Yield: 4
Ingredients
1 pound broccoli rabe
3 tablespoons extra-virgin olive oil
2 garlic cloves, thinly sliced
Kosher salt
¼ teaspoon crushed red pepper flakes, or to taste
Directions
Cut off the tough ends of the stems of the broccoli rabe. Then, holding a stem with the florets in hand, nick a little piece of the end of the stem with a paring knife, and pull the little piece of the stem toward you, peeling the stem partially. Continue working your way around the stem until it is peeled. As you peel the stem, some of the large tough outer leaves will also be removed; discard those as well. Repeat with the remaining stems. Wash and drain in a colander.
Heat the olive oil in a large skillet over medium heat. Scatter the garlic over the oil, and cook, shaking the pan, until golden brown, about 1 minute. Add the broccoli rabe, and season lightly with salt and ¼ teaspoon crushed red pepper. Stir and toss to distribute the seasonings.
Pour ¼ cup water into the skillet, and bring to a boil. Cover the skillet tightly, and cook, lifting the lid to turn the stalks occasionally, until the broccoli rabe is tender, about 13 minutes. Taste, and season with additional salt and crushed red pepper if necessary. Serve hot.